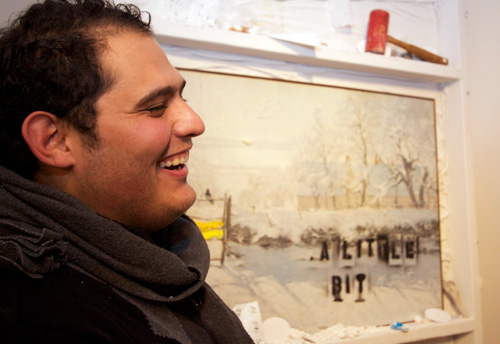 White Show – Lawrence, KS
The show opening was a blast! What an amazing array of talent. I really feel honored to be in this show alongside such talent. With 90 pieces by 49 artists spanning 18 states plus Puerto Rico, patrons were sure to find something they enjoyed. This was my first show opening at the Signs of Life gallery in Lawrence, KS. I hope it is my first of many to come. The vision Clay Belcher and his team at Signs of Life have for the art space is exciting and if this show is any indication, it is a hit!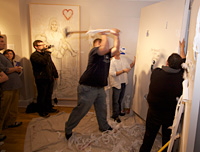 We kicked off the show by swinging sledge hammers and axes at an interactive collaborative piece created by BALM and Rex Hausmann. This was quite the scene with a hundred people or more huddled around. It was a sea of cameras and smiles as people cheered on participants who swung heavy hand tools at the white wall filled with white goodies. With Rex and his contagious personality at the helm, soon everyone was in a festive mood. It was a real pleasure for me to see Rex again. His bubbling personality has a unique way of drawing others in, and his crazy fun-filled wall crushing experience reminded me that art IS for the masses and it can be a lot of fun! I am so glad that Darin White and the entire BALM group put the time and energy into making Rex's interactive collaborative piece possible.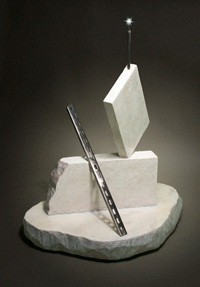 The evening continued with browsing and conversation. There was such an array of art that it was an experience trying to take it all in. With great hors d'oeuvres, great people and great art, the evening was truly a success. My piece, What is Pure, seemed to draw attention as patrons traveled around and experienced the other art. It was a real pleasure to watch patrons circle my sculpture and wonder what was going through their minds. Of course, I also had an opportunity to meet other talented artists which is always a pleasure as well.
Now, don't think for a moment that I was only there to hobnob. I also did a little shopping of my own. I fell in love with a piece by K Hawkom Thomas entitled Emergence. Before I left Kansas I had purchased the piece and now I am in negotiations with my wife as to where it will hang it in our home once the White Show comes to a close. Of course, I am not sure when the piece will return home with me as there are currently talks of the White Show traveling to San Antonio, and then possibly on to New York City or Chicago.